Good news, the hood is back black!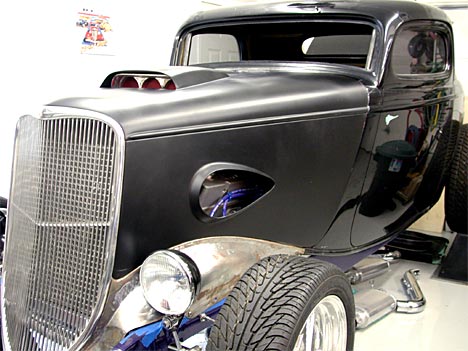 I picked up the hood yesterday from the body shop. It's nice and straight and primed in black DP-90. Oh baby! Now I need to get the clips that will hold the electrical (driver's side) and A/C-Heat hoses (passenger side) figured out and I can finish the inner fender panels to match.

This month was an exceptionally busy one at work. I've been blessed with more work than I can complete in an 8-hour day. When you're self employed it beats having it the other way around. With the economy the way it is and out-of-state college tuition sucking our bank account dry, I just can't turn any work away these days, so guess what gets put on the back burner? Don't worry, the back burner isn't shut off - it's just on simmer. Slow cooking, street rod style.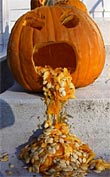 I hope you didn't eat too much Halloween candy!
This poor fellow looks like he did! I found this photo on the web earlier this year and kept it so we could "borrow" the idea for our jackolantern. The "puking pumpkin" was a big hit.
I was going to take a picture of the one we carved but it's too c-c-cold! Every now and then I talk about our weather and you're probably getting sick of hearing about it, but let me tell you... IT SUCKS! We've had snow at least twice already (I shoveled this morning again) and it's freezing cold. I'll have to crank up the heater to work in the garage now. The extremes we experience in South Dakota are like no other. It can be 100 degrees one day and freezing the next. I guess that's probably why we savor those two or three nice weather weeks each year (and build mostly closed street rods).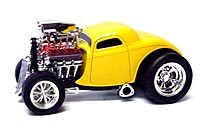 I got a new toy!


A new 1/18 scale "Muscle Machines" `33 Ford to be exact. A nice visitor to the site sent me a photo of one a while back. A few days later "Spellchecker Bob" sent a photo of his new computer desk and he had one sitting on it. My appetite had been whet!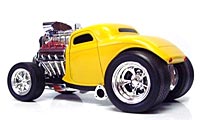 It's kind of funny how similar it is to Project33 (in a distorted kind of way). It has the same bugcatcher scoop and blower (only on a Hemi), side exhaust, and a quick-change rear end.
It sits on my desk now and takes the place of the former "Rocket Racer" metal toy that once sat there.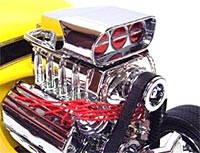 I guess this proves that some kids never grow up!
I make sure to play with it when no one else is around and the windows are shut so the neighbors can't hear any "Rum-Rum-Earch!" sounds coming from our house.
Well, I've rambled enough. Maybe I'll get a chance to work on that roll cage this weekend. I've been doing a lot of research and planning and I think I'm ready to get back at it.