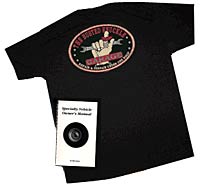 You've got mail!
People keep sending me stuff in the mail. I'm guessing it's because they know I've got a big mouth and will tell everyone I know - so it's cheap advertising ;)

Anyway, I'm sure not complaining! This month I scored a cool new T-shirt from the Busted Knuckle Garage and a Specialty Vehicle Owner's Manual from Mike Greene. In the immortal words of Wayne and Garth "I'm not worthy!" :)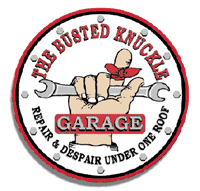 As a thank-you for these unsolicited gifts (and because I have a big mouth) let me fill you in on what they're all about. The Busted Knuckle Garage carries garage signs, shirts, clocks, hats... basically gifts for the car-guy with a sense of humor. I'm going to have to pick up one of their big garage signs some day.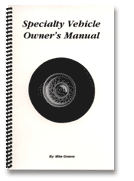 Start asking anyone who's built a car from the ground up what or where each part came from and I'm sure in no time at all he's going to say "I'm not sure". Then try asking him things like what his spark plugs are gapped at or his paint color code... get the picture?
Even though Project33 is documented in detail on the web - making one of the most complete owner's manuals around - unless I want to carry a laptop with me when I travel it will do me no good when I need it the most. I also haven't published some of the things like my blower belt number and so on. This little book covers just about anything you can think of and hundreds of things you probably haven't. Just fill in the blanks (with a pencil ;) and stick it somewhere in the car. Some day when that obnoxious guy comes up to you and starts asking all those annoying questions (or you break down on the road) you'll be glad you did. E-mail Mike and tell him you need one.
Thanks guys for sending the cool shwag!
Car Progress has been slow on this end but thanks to a couple of the projects sponsors, it's still moving along. MMS Stainless and Accessories has been building a stainless steel torque plate for the engine and a new secret sponsor (I want to make a big splash when they finish) is making a really cool throttle pedal assembly that will be available to street rodders worldwide once it debuts on Project33. I *can* tell you it will be the answer to many street rodders prayers!
I had Joey Keyman come over the other day to help me measure for the roll cage. I'm still not sure about going to a full cage because of the room it takes up inside the already cramped car. Joey's designed some really cool roll bars and cages for import cars so he's familiar with tight spaces and unique designs. I hope to have the first bar bent soon and will build it a bar-at-a-time until it's finished.
There's still no heat in the garage but it hasn't been necessary. This is one of the mildest Novembers I can ever remember. Normally our temps are in the 20's and we've had 70's up until the last couple days. I have to admit that there were times this month that I could have been working on the car but chose to enjoy the unseasonable warmth outdoors instead. The time will come all too soon when I'd rather be inside.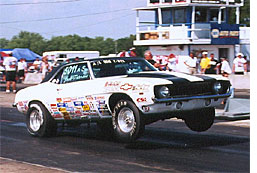 Racing season is over and here's a shot of Jack Peterson's NHRA Stock `69 Camaro. It's a factory 427 CI / 425 HP big block and weighs in at 3610Ibs with driver. The sea level class index is 11.25.
Jack's Camaro runs a 735 CFM Holley with vacuum secondaries, a stock aluminum dual plane intake manifold, stock GM square port heads with 219-172 valves and no porting, stock rocker arms, a stock Comp cam with .520 Lift, JE stock comp. pistons, GM steel crankshaft, stock GM rods, Davis step headers, a 2 1/8th Holley electric fuel pump, Jerico 4-speed trans, 12 bolt rear with Strange axles and Spool, 5/ 38 rear gears and 9X30X15 slicks. Best ET 10.39 @ 129MPH! Max RPM is 8500.
The boys down at Sehr Performance know how to make a car move! RRR!


Until next time, keep the front wheels in the air! :)