I think I say this every month but here I go again - time flies! I can't believe it's time to update this column again.
Once again, here's another photo of the car outside in the sunshine. I can't get enough of it and this has really got me anxious to get the thing on the road. I'm still shooting for spring but I know better than to make any promises. There are only so many hours in a day and a lot of work left to do to get to that point.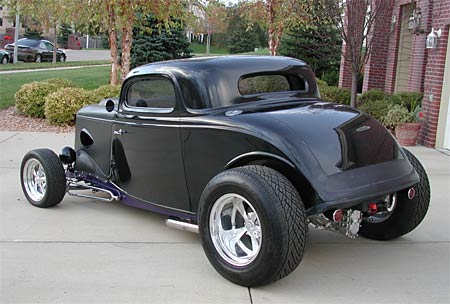 Speaking of hours in the day… a couple days ago I did a little time research. Did you know, as of 11/2/03 I've been officially been working on the car for 216 weeks. That equates to 1512 days or 36,288 hours. If we break that down further it's 2,177,280 minutes or 130,636,800 seconds. Now if that seems like a long time, it's really only 49 months or 108 fortnights. Better yet only 0.0041425 millenniums, so really not that long at all when you look at the big picture.
As I was thinking about how I spent that time the list kept growing and soon I wondered how the project got this far, this soon. This site is like a diary of my life since September 12th 1999. In that time a lot has happened and you've been along for the ride (even if not by choice) from the beginning.
There was the start of the project (although you missed the previous year of planning) and the ups and downs throughout the build, but there was also a lot of other stuff along the way. We buried both my wife's parents (5 months apart) and my friend Everett Hon, who built the blower. We closed our family business of 30 years and moved to a new house. Our oldest daughter graduated from high school and went on to college. Then there was September 11th when we all shared the sorrow and concern for our world together. I "remodeled" 2 garages in that time and a few rooms in our new house. Went to several rodding events like the Back to the 50's and NSRA Nationals as well as local shows. I've shared stories about lightning strikes, showerheads and bunk beds and most recently (something I haven't shared yet) I started a second business (www.etechglobal.com) with a partner in Denver.
All the stuff listed above doesn't include the time spent with our kids and their activities, holidays, family vacations and all the other things we all spend time doing day to day. The site has been updated from hotel rooms and campsites and as of today there are 2879 build-up photos in 594 Articles. Several visitors have dropped by from other countries and even a famous face or two has taken the time to give the project a thumbs-up – and then there's the friends I've made – too many to list but you know who you are. What a ride this has been! I hope you'll stick around to the end and I'll try not to drive so wildly that you become carsick! :)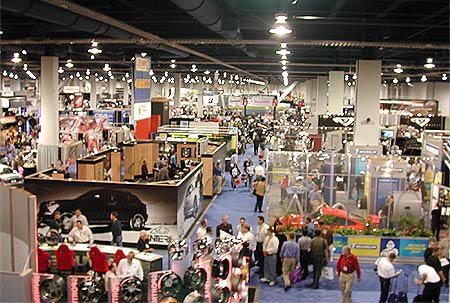 SEMA 2003 WOW! What a show!
The SEMA (Specialty Equipment Market Association) show in Las Vegas, NV is one of the largest trade shows in the world, if not the largest. Unless you've been there it's impossible to comprehend the magnitude of the show and unless you're Superman, it's impossible to see everything on display. I've added a small gallery of photos from my trip through the show. Coming from the Midwest where you never see a Ferrari or Lamborghini, let alone some of the other exotics, I took quite a few photos of them and left a puddle of drool wherever I stopped to take a picture. Anyway, this is my pictorial take on SEMA 2003 – Enjoy!
Until next time - Keep the shiny side up!
Scooter