Attending SEMA 2004 with Project33 was a once in a lifetime opportunity and a dream come true. It was also great meeting so many of the site's followers - I've truly been blessed! Above is a panoramic of a small section of the show known as Hot Rod Alley. If you ever attend wear comfortable shoes - the show is HUGE!
This page may take a while to load. I didn't want to reduce the photos and lose detail - but you have time to wait, right?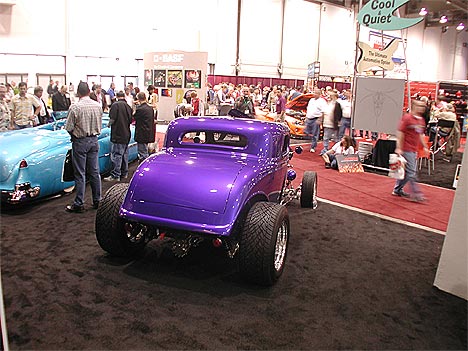 Project33 was one of six cars in the HRIA (Hot Rod Industry Alliance) booth. HRIA is a council of SEMA (Specialty Equipment Marketing Association). The booth was in an area of the show called "Hot Rod Alley". SEMA is one of the largest trade shows in the Nation.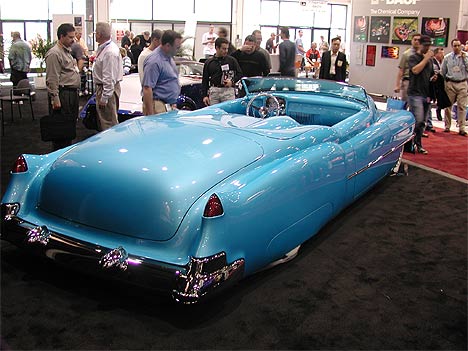 The sleek Caddy next to it never failed to draw a crowd. This was one cool sled! "Let's go daddy-o!"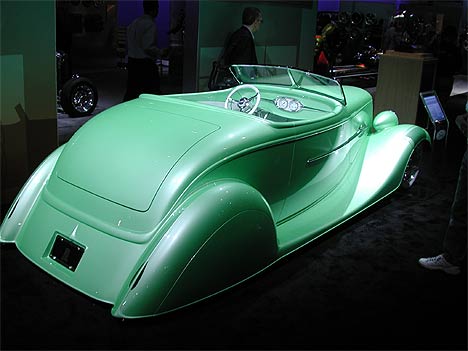 The owner of the Caddy also had a `34 Ford on display in the Ford booth. What a switch from the highboy style of Project33! Very cool.
Across from Project33 was Steve Metz's Pro-Street Studebaker. What a ride!

Steve is the President /CEO of Staging Lane Productions, Inc., makers of "Muscle Machines" like the one I have on my desk. He came over to tell me he thought my car was one of the coolest rides at the show. That meant a lot to me, coming from a guy who designs cool cars in any scale.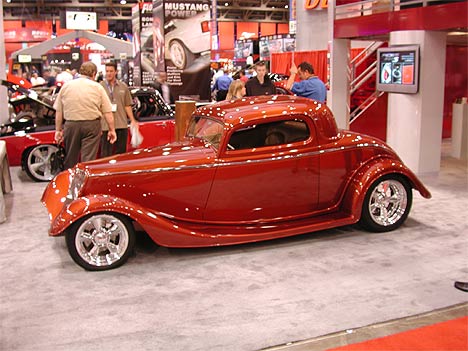 A couple booths away in the Mother's Polish booth was the Riddler Award winning `34 that was built by Chip Foose. Good thing it wasn't any closer ;)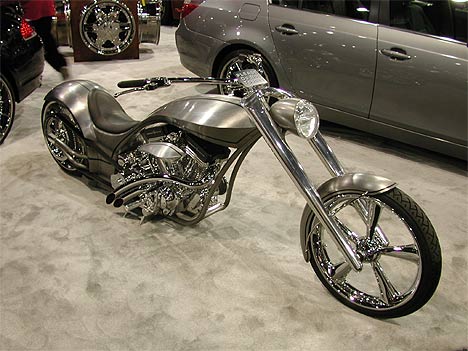 It seems like anything Foose turns his attention to becomes a role model for what's cool. Here's a Foose Bike.
Of course not even Chip can help Paul Sr. from OCC ;)

This was taken when he cut in line to meet Chip and the crew from the OverHaulin TV show. The nerve.

Oh yeah - he's not as big as he looks on TV.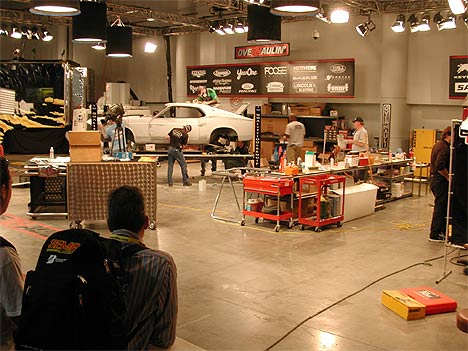 Speaking of OverHaulin... They were taping an episode in the top floor of the South hall during the show. Chip was a busy guy!
I'm guessing the car is for wrestler Hulk Hogan, since he hung out there the whole time.

Courtney is just as energetic in real life as she appears on the show and her smile could blind you!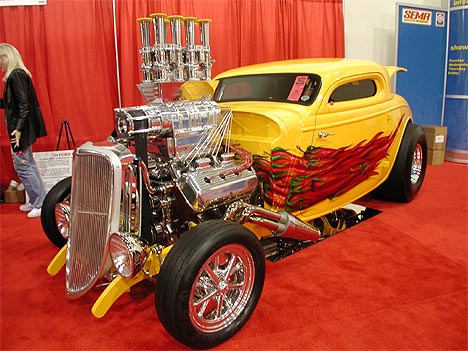 There were other `33 highboys at the show. This one with it's chili pepper graphics, 5-foot tall motor and dental mirrors was like a cartoon rendering come to life. I didn't feel as bad when we pushed mine out (instead of driving it) after I saw them do the same with this car.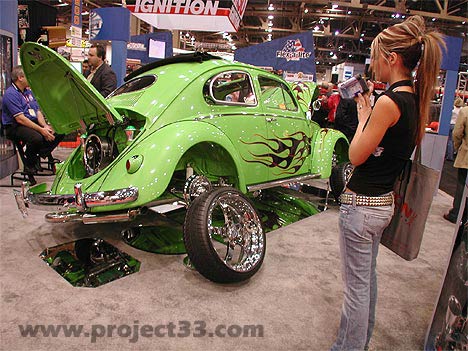 There was something for everyone there. The audio/video and custom wheel halls had enough "bling" to last a lifetime. Many of the cars wouldn't be practical to drive or couldn't be driven because their multimedia systems consumed them. The custom wheel hall was an exercise in decadence. We could clear the National debt with the money that was spent on all the over-the-top Bentley's, Roll's and Ferrari's.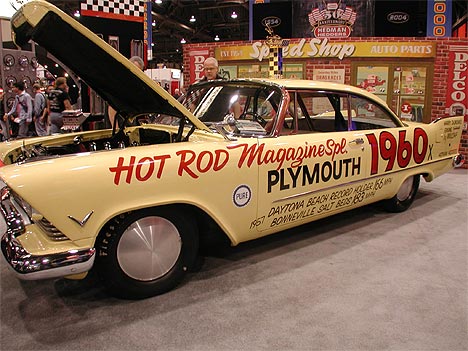 Hot Rod Alley was more my speed. There were several history making cars on display this year. The future is nothing unless we take time to savor the past.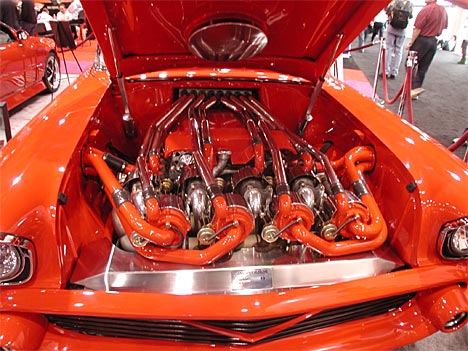 In case you've ever wondered what a plumber's hot rod would look like... ;) This `57 Chevy had 8 turbos - count `em - EIGHT!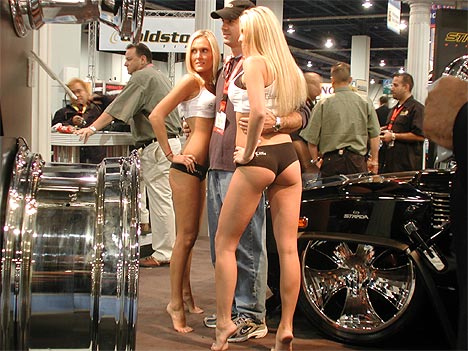 This is a "brief" example of some of the many other sights of SEMA. The "booth babes" were spectacular again this year and I imagine they're the reason some guys attend :) These two featured independent rear suspension and comfortable footwear.
I hope I didn't just lose the site's "G" rating ;)