Project33 is Finished!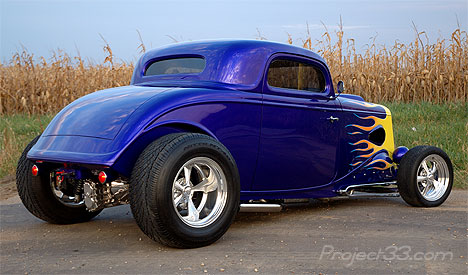 They say, all good things must end, but the friendships and experiences that have come about through this project, will last forever. I've had the good fortune to meet so many great people and work with some really great manufacturers and vendors.
I'd like to extend a big Thank You! to all of the people and the many sponsors who helped support the project! If you'd like to see the major sponsors of this site listed on one page, click here. Their generosity and support helped bring you this project. They are a big part of what makes this hobby so great!
I sometimes feel like the luckiest man alive. The car exceeds my wildest expectations and I couldn't be happier with how it turned out. It was definitely worth the wait. It has all the right parts and the fit and finish are second to none. It rides and drives great and has the flavor of an old school hotrod with the sophistication of modern safety practices and high-tech electronics.
Throughout the project it seems as if everyone's been asking what it's worth and how much I have invested. While I won't say how much is invested, partly because I haven't felt like adding up six years of receipts, I do know how much it's worth. Before it left for the 2004 SEMA show, I had the car professionally appraised by an appraiser who has appraised cars that were built by some of the nations top builders. He spent the better half of a day in my garage, crawling in under and around the car, writing things down, taking pictures and asking questions.
He came back with a detailed appraisal spanning several pages with a value of $160K! (pick me up off the floor!) He told me that the workmanship on the car was every bit as clean and professional as any of the top builder's cars that he's inspected. He said that a small portion of that price is due to the car's notoriety. Cars with history are more sought after but the car still holds it's own even without that.
The future owner of the car will have the most detailed "owner's manual" of any street rod ever built. They will also receive the Project33 Purple paint code in a sealed envelope under guarded supervision at an undisclosed location ;)
Why would I sell my dream car? It isn't without mixed emotions, but here are a few of the reasons:
I built it too nice for my budget. - I never drive it because I don't want to chip/scratch/hurt it in any way. I can't afford to repaint it. It's a functioning art form that deserves to live a pampered life or to be in the hands of someone who enjoys driving it and will continue to maintain it.

I enjoy building more than driving - For me the fun is in the building, dreaming and scheming. Driving just means its finished. There's the initial thrill of building a nice driving car and then it's replaced by a need to build another.

I don't have the money or storage to keep it. - It would be nice to have been able to keep a lot of cars I've owned in the past, but unfortunately I've never been in the financial position to keep, insure, and store them all. If I were in Jay Leno's shoes, I'd do exactly what he does.

160K is a ton of money to me. - I think of what 40K would do for my next project and what the remaining 120K would do for my retirement portfolio (I'll have to start one!).

There will be another dream car. - Future "dream cars" are already floating around in my head. While I don't know what the next car project will be, I do know that it won't go without a lot of forethought and planning. That's all part of the fun.
I've been procrastinating in getting Project33 listed for sale. Even with the valid arguments above, I'm still going to miss it, but more projects await the garage stall where she currently sits. For me a life without big projects and the goals and dreams that accompany them, is like sitting around waiting to die. Projects keep me going, give me purpose and keep my mind sharp.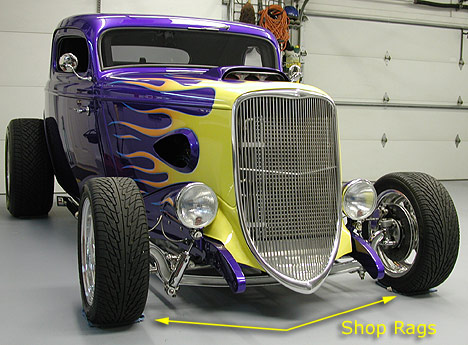 I park the car on 4 shop rags in the garage so the tires don't leach pigment into the nice painted floor. The other day it was a beautiful autumn day, so I thought I'd shoot a video of the car backing out of the garage and pulling away. I was alone, so I planned to shoot it in segments with the camera at different positions and then edit it together to look like one video with multiple cameras.
I thought you might get a kick out of this short video blooper :)

This site will be available on CD-ROM for $19.95 each starting January 2008. It will contain all the build-up content on this site as well as the tools for calibrating tire size, etc. There will also be a couple added features on the disc that you won't find here.
I'll be adding a button to purchase CDs on this site. The site won't be going away anytime soon or for at least as long as I'm alive. The CD is for those of you who'd rather not play the odds ;)