It's official! Project33 is more than a bunch of inanimate parts - IT'S ALIVE!
At 6pm CST 02/10/2005 there was fire in the holes and it was singing its song. What's begun to feel like a giant cumbersome art project, now has a soul and a personality. Now it feels like a car!
There were no fluid leaks and nothing overheated but there were several exhaust leaks including the headers. The entire exhaust system has been removed and the slot and binder clamping system is being replaced with stainless steel band clamps over butt joints. We're also adding a custom set of NoWeeds Power Exhaust Cutouts. (the neighbors will LOVE those ;)
The Idle Air Controller (IAC) was defective and is going to be replaced soon so we can set the idle. As you'll see in the video, it's stuck wide open so the car idles at about 1500 rpm.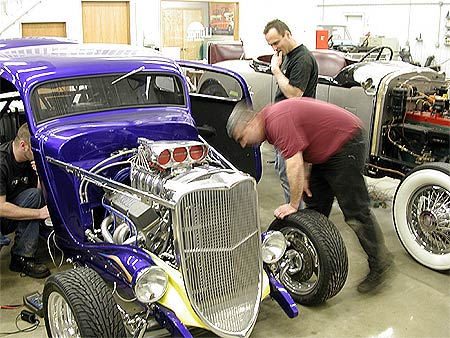 The video takes place at Executive Touch Auto Center and starts off with Joey Keyman (Excessive Autosports) multitasking as he runs the Accel DFI software and eats pizza at the same time. It backfires then starts and loads up but they keep it running and smooth it out. Smoke comes off the engine as the new paint and polished aluminum is seasoned. Ron (Executive Touch) adjusts the fuel pressure while Joey and Jack (Sehr Performance) adjust the timing and break in the cam. We addressed the IAC issue by checking both hardware and software until we narrowed it down to a bad IAC motor.
I'm looking forward to hearing it run at normal idle without all the exhaust leaks.

Download the Startup Video
(8.7MB WMV file)
The video is approximately 3.5 minutes of video edited from an hour long digital recording. We started the car 3 times and ran it for about 20 minutes each time, burning through about 5 gallons of gas.

The video clip is in Windows Media (WMV) format. If you do not have a program that will open/play the file, Windows Media Player is available as a free download. To download right click the link and choose "Save Target As".
I hope you enjoy the site's first video. Due to the number of requests, I plan on offering several longer full-size videos along with a copy of the site on a CD-ROM some day.