I think I'm about ready to start working on the car again!
You've heard that before, eh? I hope I haven't lost any visitors along the way but being "Handy" can sometimes be a curse. Since we moved into our new house last May, I've "remodeled" 7 rooms and a garage to various degrees. I'm too cheap to hire anyone to do anything that I can do myself.
I added a 7' wide, 14" deep arched doorway between our family room and kitchen, faux painted and wallpapered several rooms, added crown moldings and new flooring to a couple rooms and new light fixtures to them all.
Of course there were the other projects like building a loft bed, completely redesigning and rebuilding an office desk and upholstery projects that went along with the home remodeling projects. In between time I still tried to get out in the garage and work on the car too.
The last home remodeling project (for a while) is now finished and I'm anxious to spend more time in the garage. Now... if I could just get that roll cage builder to show up! (didn't I say that LAST month?) It looks like I may need to keep looking - it can't wait forever. He's probably remodeling his house ;)
I know you could care less about the "other" projects since they've been keeping you from your regular Project33 "fix" but I thought I'd show you the latest since I FINALLY got to remodel my office and I'm like a kid with a new toy!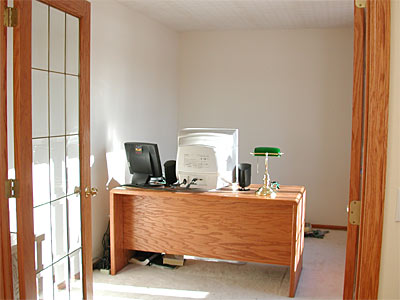 Here's a shot of the room Saturday, March 9th after my brother came over and helped me wallpaper the ceiling with textured wallpaper that resembles a tin ceiling. It was a 2-man job. The room has been a temporary office since we moved in and was NOT what I would consider a comfortable and ergonomic work environment by any means.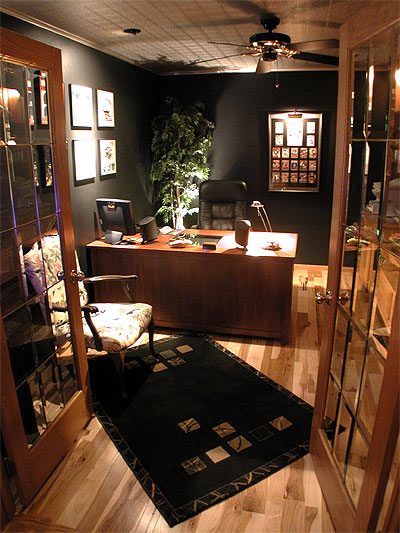 Exactly one week later the room now sports a 3/4" tongue and groove White Hickory hardwood floor, new paint, the desk I talked about building earlier and lighting designed for a computer work environment. The new desk has the 21" monitor installed under a glass panel to free up space. The computer and all the wires are hidden inside the desk. (This photo was taken at night using a wide angle lens so there's some distortion.)
I won't bore you with pictures of the finished loft bed or building the desk - after all, this isn't projectwoodworking.com :)

I just wanted to show you that even though it's appeared as if I haven't been doing anything - I have - and I plan to channel that time I've devoted to other projects into the car now so MAYBE I can get it on the road for a test spin before the snow flies again next winter.