Project33 has just returned from the 2005 Hot Rod & Restoration Show in Indianapolis, IN. What a trip!
The 14-hour drive wasn't bad at all in Dakota Digital's hauling rig. Leather seating, XM radio and a big box of cookies made the trip quite bearable however things took a turn for the worst once we arrived.
Everything went fine with the car and the show but I didn't fair quite as well. The day we arrived I started to get the chills, followed by hot flashes, dizziness, a headache and dementia. By 3pm I was back in bed simultaneously shivering and sweating, hoping I wasn't going to die in a hotel room in Indy. It hit me hard.
By the last day of the show I was feeling a bit better and now I just have a bad head and chest cold. Unfortunately Scott from Dakota Digital caught the bug and was feeling the same way on our trip home. Everyone says "it's" going around and should only last a month. Oh good, in 3 weeks I should feel okay again.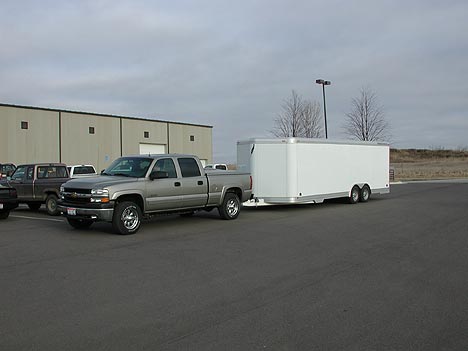 I'll end this month's update with some photos from the trip (less commentary). I hope you enjoy them. I'll get back to the update Articles as soon as I can stay up past 11pm again. I can't believe how tired I am since I came down with this bug.