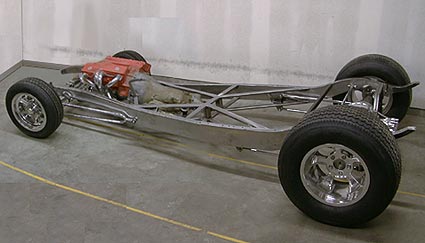 I feel like I've cleared a major hurdle in the project by getting the frame to the point of rolling on it's own 4 wheels. This photo is a little distorted due to the use of a wide angle lens to get the entire car in the photo. This is just the thing I need to keep my creative juices flowing. I look at this photo and envision a completed car - and the sound of the engine - and the feel of the steering wheel - and the smell of smoking tires! No I'm not on drugs, just high on life!
Soon the frame will be finish welded and I am going to prime and paint it. I ran into a small wheel / brake clearance problem that turned out to be a plus for the project when all is said and done. I wrote in-depth about it in an article titled "Baby Gets New Shoes". The long and short of it being the project will be wearing a new set of Billet Specialty wheels and Nitto tires sometime soon and these "old" wheels and tires are for sale if anyone is interested.
Some notes on the web site:
When I started this project I figured if the web site saw 100 visitors a day it would be a big success. I was totally unprepared for what has happened. This site is currently visited by about 1200 to 2100 visitors per day with peaks in excess of 3000! I've been told print Articles will be out in soon in many major street rodding publications - worldwide! I can't believe how it's grown. I really had no idea it would be this popular. I spend about an hour each day just answering email! Anyway, I think its WAY COOL!
I get a lot of mail thanking me for sharing build-up information from guys who are also building cars. It's my turn to thank the guys who have emailed *me* with tips and most recently helped me decide on tire sizes. This is really a 2-way street.
I think the two hardest things to decide when building a car are the wheel/tire size and paint. I'm working on paint color selection right now and I think I'm going color blind! I imagine I'll get the cold sweats and shakes the day I have to tell the Counter guy the final color code. The hardest thing to *do* is install the hood hinge/latch assembly. Really! what a pain (sorry Dan Fink) I still have nightmares from installing one on my last car. I'm not looking forward to that part of the project, but that's about the only part I'm not looking forward to. Once installed they work great.
I've arranged to rent a stall in a friend's (and fellow street rodder) body shop about 15 miles from here so I can do my own body and paint work. I'll fill you in on that as it happens. That's the coolest thing about the web... it's "real time". None of this waiting a month or two for a continuation article that totally skips some of the key things that were done - or about a car that's already finished and on the road.
If you haven't done so already, please vote for the style mirrors that will go on this car. I'm surprised with as many visitors as this site has that one of the mirrors hasn't received 300 votes vet. The only thing I can think of is that people don't like to enter their email address. I plan to change this in the future but rest assured, I will delete the addresses when the voting is over and never use them for anything.
Some visitors have asked if I can keep previous updates (this page) so they can read the past ones. OK you got it! Starting this today I will link to a copy of the past pages for you starting with the one this replaces.
Keep the shiny side up!
Scooter