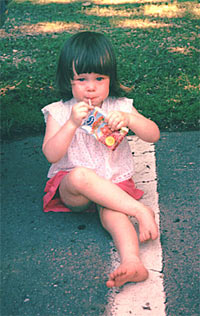 So our first born is 18 years old now and heading off to college next fall. How time flies! It seems like just yesterday she was the little munchkin pictured here, sipping a tall cool one on a hot summer day. I really miss those days when the kids were small - but not enough to start all over again ;)

In my head I'm still that 19/20 year old guy I used to be about 25 years ago but every now and then I get a reality check. To reduce their frequency, I avoid mirrors.

Earlier this month I had a couple of those infamous reality checks back to back.

One day I was in a store and overheard one sales clerk ask another if he'd "waited on the old guy yet". He was referring to me. As if that wasn't reprehensible enough, the next day we went to a "parade of homes" open house and the home builder (slightly younger than me) greeted me with "How are you today young man?".

Let me tell you, a guy is only called young man if he's really young or really old. I'm amazed he didn't say "It looks like you're still getting around pretty good". Well son, this "young man" is building a `33 coupe that'll blow the doors off that belly button Audi of yours and leave you choking in a swirl of navel lint ;) RRR!

Mother's Day

I've found the perfect hiding place for anything I don't want my wife and kids to find - IN THE CAR!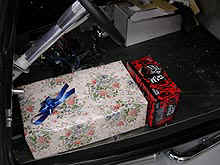 This is my private stash of Cherry Coke and Lisa's mother's day gift. If you're thinking I've let the cat out of the bag now that I've exposed my secret location here on the site, don't worry. This web site is another place they'll never look and unless one of you tips them off, the secret is safe for ever