So far this May there's nothing car related to talk about. I haven't even had time to think about the car. It seems as if every day on our May calendar has something written on it. There's so much going on right now. Our middle daughter is graduating from high school this year and has registered for college.
The past few weeks have been spent getting ready for graduation. Between working on the house, making announcements and planning an open house, there's been little time for much else.
My wife doesn't really share my love of street rods but we do share a common interest in home remodeling and decorating - on a budget. Over the past few years the car project has consumed the majority of my spare time and money so consequently our habitual house projects have been neglected.
I don't usually share pictures of our house because… who cares, but I'll share a couple that show what I've been up to lately. (so you know I've been doing something).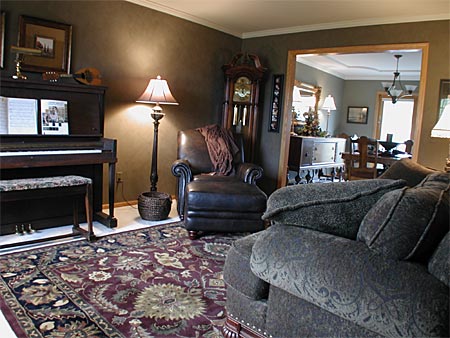 For the past four years our living room has been a big white box with a piano and some car parts in it. This is how it looks now after adding crown molding and faux painting the walls.
Part of the deal between my wife and I was that when the car was finished she would get living room furniture. The rug, couch, chair and floor lamp fulfilled my end of the bargain. I think I came out pretty good on that deal ;)
It will be a great room to nap in on a Sunday afternoon - if I ever find the time. Last week a friend of mine said he was going to spend the weekend working on his lawn. On Monday I asked him how his lawn work went and he said he didn't touch it. He spent the entire weekend lounging around. On Saturday alone I repaired a broken headboard, reupholstered an old chair, helped my wife paint our laundry room, replaced a broken shower handle and mowed the lawn - with a few trips to the store and to haul our youngest daughter around in between. I'm sure my friend started his week more rested :)
This weekend I'll be making a black iron curtain rod with finials made from old glass door handles - among other things. When graduation is over, life should be back to normal (whatever that is) and I'll have more time to sit down and write about rest of the build. But then it'll be over and there won't be anything to write about. That'll feel strange.
| | |
| --- | --- |
| This chair is 76 years old. It was given to me by my grandmother when I moved out of my parent's house, so it's one of my first pieces of furniture. It had been reupholstered many times before I got it. I reupholstered it twenty-five years ago in 1980 with the floral fabric (with birds) that you see laying on top as templates. It was time for a change! | |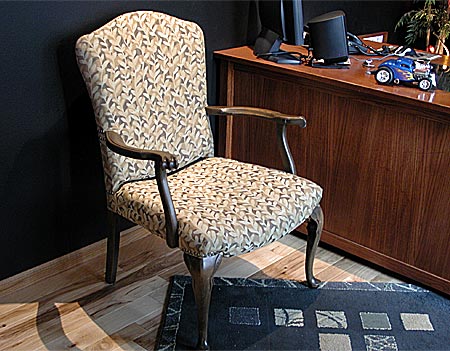 A pneumatic staple gun sure made the job easy. I had the chair stripped of its old fabric and recovered in about three hours. I was able to use the same decorative tacks so my only expense was the fabric and a few staples. Now it's good for another 25 years.

Lets see, what else has happened lately… oh yeah, I've been taking some pretty cool wildlife photos - IN OUR DRIVEWAY!

Too bad he couldn't stay for diner :)