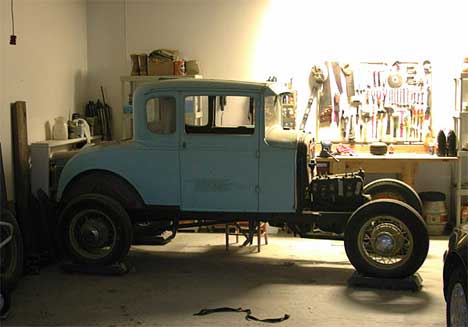 Isn't this a cool "garage scene" photo? The other night my neighbor across the street dug out his `53 Chevy truck for the first time in several years and in doing so he unveiled the model A coupe that permanently resides behind it. The photo opportunity was too good to pass up.
His plans call for a minor restoration someday but it's not high priority. This was the car he drove as a kid and other than the fact that it's mostly in pieces now, remains the same as it was back in the "good old days". The same can be said for his truck, which leads me to the gist of this article.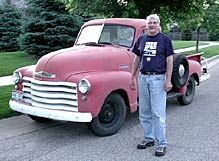 Don's been telling me since we moved in that someday he was going to fire up the `53 and start driving it again.
That evening as we pulled into our driveway I looked in the mirror to see the pink (formerly red) Chevy slowly leaving its stall for the first time in years. I jumped out of the Durango to give him the "thumbs-up" and to my surprise the passenger door swung open and he motioned for me to hop in :)
The truck is original and by that I mean authentic; every part tells a story. Cruising down the street in the old truck was a gas! The neighbors all stopped what they were doing to look up and wave as the two old guys with ear-to-ear grins slowly putted by - gears whining and lifters ticking.
Don doesn't plan to do much to the truck except rebuild the generator and maybe update some wiring so he can trust it on a longer, say 5-mile, journey. I was questioning why he wouldn't want to restore it or better yet, rod it, but after riding in the truck I understand perfectly; it has character. You can have a ton of fun in an old tuck with broken glass, a melted radio, ripped seats and a hole in the floor! In fact, the smile per mile factor is probably higher than a restored original or rodded custom, and all he has to do is push the starter. Thanks for the ride Don!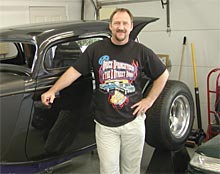 Project33 had another intercontinental visitor today! I've been corresponding with Thommy (the "H" is silent) from Båstad Sweden, since the start of the project and he made a special stop during his trip stateside to see the car in person.
Thommy's building a high-tech `32 roadster with a Vette convertible top and a 327 Chevy under the stretched hood. When he told me he was coming I asked him if he'd pick up a Swedish street rod magazine for me. Instead, he brought a 6-inch stack of magazines! We checked out Dakota Digital, Big Moe's and my neighbor Jim's `32 in the morning, enjoyed a typical American lunch at Taco Bell and spent the rest of the afternoon swapping stories and hanging out in the garage.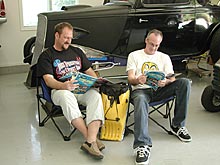 We had a great time posing for this cheesy photo and I learned a lot about the Swedish street rod scene.
Incase you're wondering what that yellow thing is; it's an award winning Swedish designed Boblbee hard shell backpack that was invented by a friend of his. You'll probably be seeing more of these unique looking backpacks in the future - they're pretty cool.
Tack Thommy!

Until next time - Keep the shiny side up!
Scooter