June was an action-packed month, filled with car events and summer fun. I've been enjoying the Saturday cruise nights and local free car shows when I can and the weather has been great! I've also been meeting a lot of great people.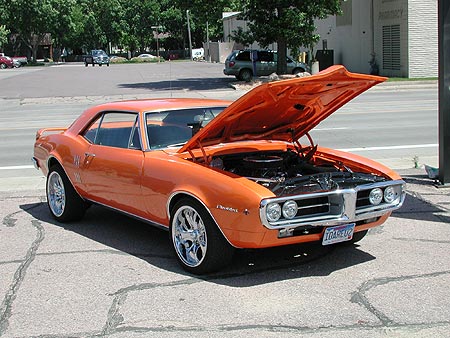 This sweet little Lamborghini orange `67 Firebird belongs to a nice young man named Lance. It sounds as nice as it looks.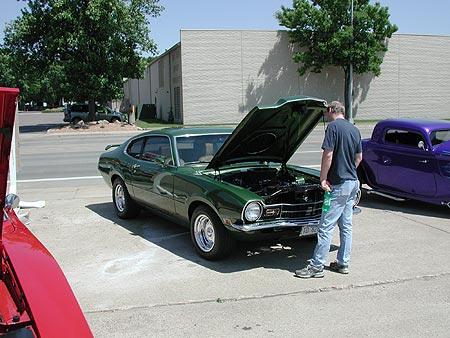 The detailing on my brother's `72 Comet always attracts a crowd. You just don't see too many around and especially not this nice.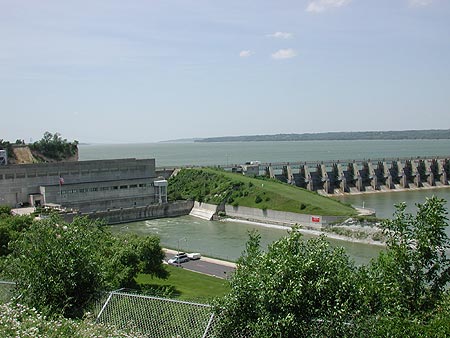 The lake we keep our boat at is a little over an hour away. It is a huge reservoir that spans over 18 miles long and several miles across, so consequently the waves can get a little treacherous when the winds gust to over 40mph. Strong winds forced us to spend a day sight-seeing on dry land the weekend this photo was taken.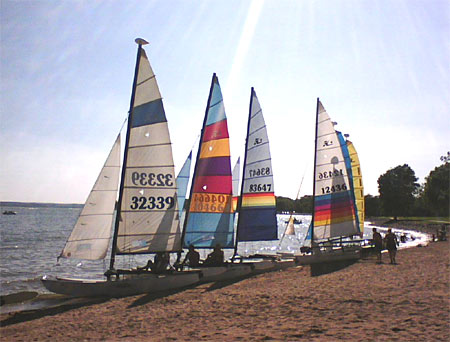 This photo was taken with a camera phone! They're getting better all the time. Our $5.00 boat is pictured left front. I believe there are about 30 boats in slips on the pristine South Dakota beach.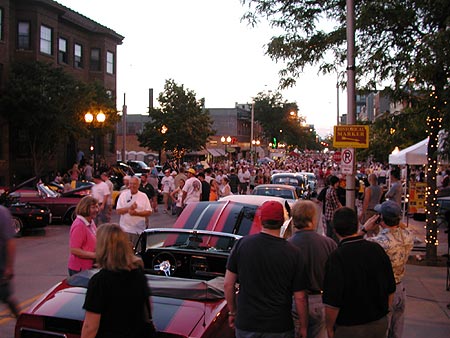 This year's Automainia was better than ever. What an event! It's a FREE car show that takes over historic downtown Sioux Falls on the Wednesday night before the Back to the 50's. This year there were 3 bands, tons of vendors and well over 1000 cars (no final count is in but last year there was 1600).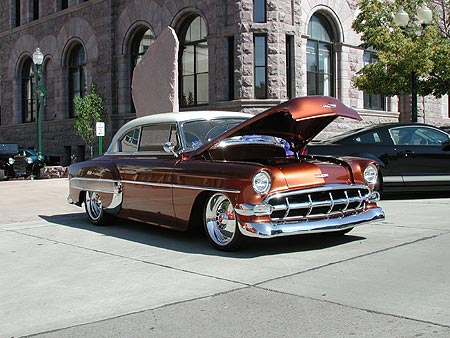 Wes Rydell had his latest Chip Foose's creation on hand. What a cool car! I'd say Chip finally knows what he's doing ;) Check out the "hood within a hood" engine and radiator cover that makes the car look every bit as sleek with the hood up as it does down.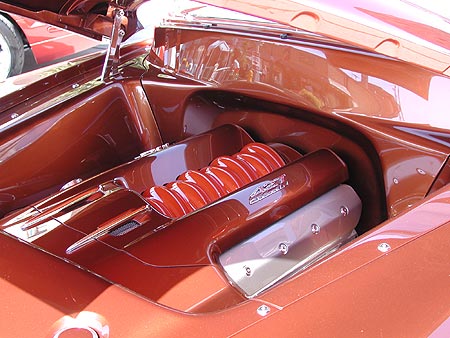 The "inner hood" slips back to the smoothed firewall and hides all wiring and plumbing. It's been done before but this is one of the best examples I've seen to date.

The lines, the gaps, the tucked bumper and tailpipes… it's all flawless.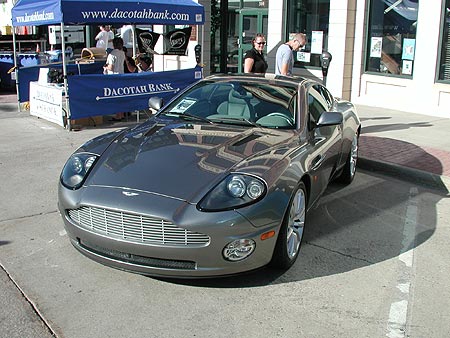 Once again, I'd trade my car today for one of these. There's just something about an Aston Martin that does it for me. I didn't photograph any, but there were at least 6 Lamborghinis on hand. With a population of about 150,000 people, Sioux Falls must have the highest proportion of Lamborghinis and Ferraris per capita of anywhere in the US.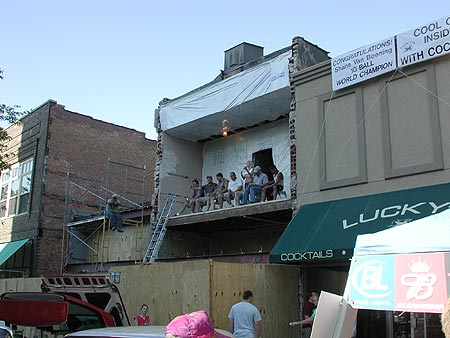 Some spectators camped out in one of the historic buildings currently under renovation.The entire downtown area was packed with people that night.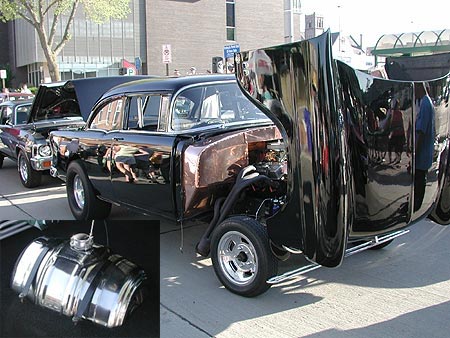 The old Taboo Gasser was at the event. If you're a beer lover, you gotta love the gas tank (inset photo).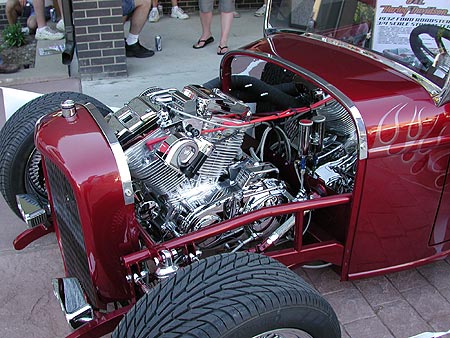 J&L Harley had their cool little 3/4 scale Harley powered deuce downtown.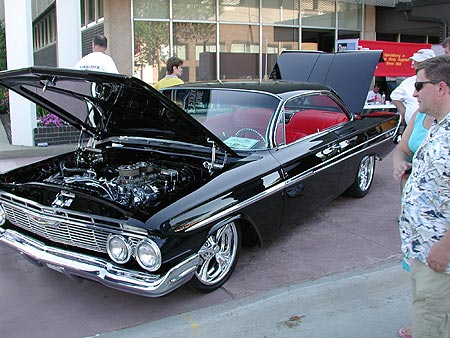 Larry Olson's sleek black bubble top is incredible. The bright red leather interior was a knock out too.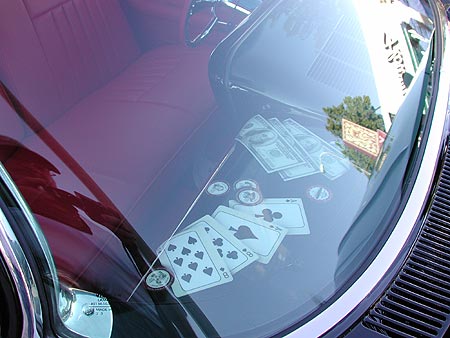 Air-brushed graphics in an old west-gambling theme are found all around Larry's car, from the interior to the brake calipers.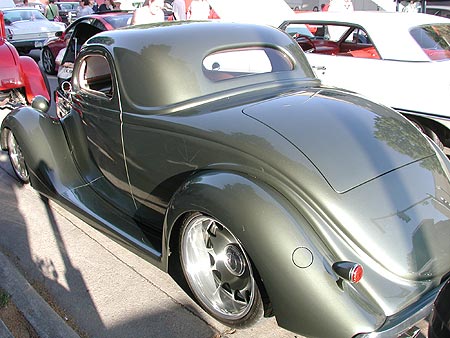 Doug Hoppe had his latest ride at the show. The lighting was terrible when I took this photo but you can still see how slick the little `35 is.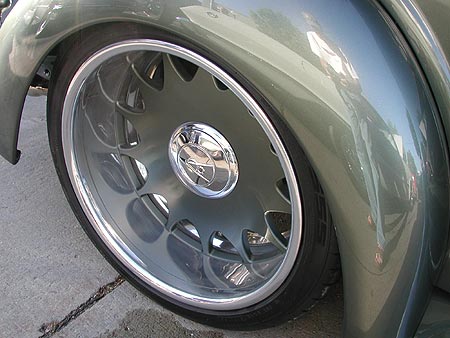 The wheels were patterned after the originals - very cool.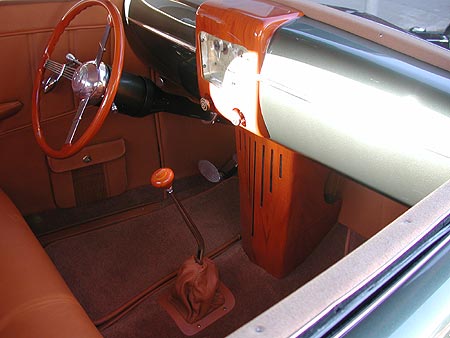 The interior is about as art-deco as they come with just the right amount of wood, paint and leather.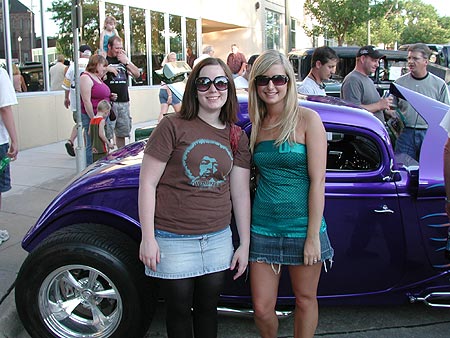 Our daughter and her friend watched our car while we went sight seeing. Several people presumed that we'd enlisted Paris Hilton to watch it for us. Lord knows we tried, but she was still in jail at the time, so this was the best we could do.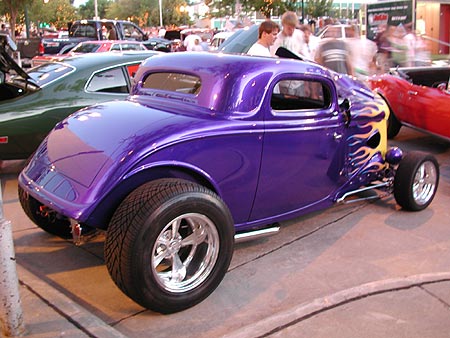 I'll end the show coverage with a photo of Project33. The car holds it's own with the best of them but I really prefer the free, non-judged shows, like this one. They're a huge social event and a really good time. If you can make it to this event sometime, it's well worth it (even though it's free) and it's one of the best around.
The car is running AWESOME now and even getting somewhat decent gas mileage, now that the wideband O2 sensor has been replaced by a working unit. It cold starts, hot starts, idles, and hauls budious maximus without as much as a hiccup. It's a whole different car now and a pleasure to drive but when you're just cruising around in traffic, it's as if you have enough unused energy on tap to power a major city. It's SO hard to keep your foot out of it.
So that was June - what's in store for July? I can't wait to find out!
Oh yeah, one more thing… Remember the update last month? Well, shortly afterward I received this photo in my mailbox from automotive artist John Vernon (rodvisions.com), suggesting my next project. He named it the "School Bus". Now this might get the kids respect! :)

Thanks for the laugh John.