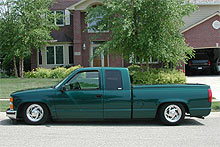 Sioux Falls hosts some really fun summer events revolving around hot rods, Harley's and Vette's. Last weekend was the annual "Hot Harley Nights" which is essentially a street dance that's initially populated by a half hour motor cycle procession. Then on the following Wednesday night cycles share the streets with hundreds of Corvettes for "Hot Summer Nights" - again a street dance and party. Our horrendous winters cause us to really live it up when the weather is nice.
While we were hanging out on Wednesday night we were invited to a street rod party that was going to take place on Sunday. Ross from Dakota Digital and his girl friend were planning on riding his Harley and suggested we follow them in the company's slammed "test truck". The truck has AirRide suspension and a bunch of their products installed for testing - it's pretty cool. I spent a couple hours in the morning cleaning and detailing it for them (the least I could do) and we hit the road.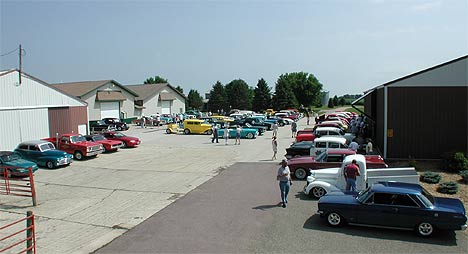 You've heard me speak time and time again about how many nice people I've met through the street rodding hobby and here's a couple more we can add to the list. Street Rodder (extraordinaire) Norm Fey and his wife threw this big street rod shindig at their home. Talk about gracious hosts! They opened their place up to a large number of fellow car enthusiasts and provided food and beverage for all. They are truly a couple of the nicest, most generous people you'll ever meet.
I think I spent most of the day in awe, drooling over Norm's garages and his incredible collection of automotive memorabilia and cool cars. Now, if someone asked me to tell them how I picture heaven, I can use this as an example. If you don't mind, I'll share a few captioned photos of the event.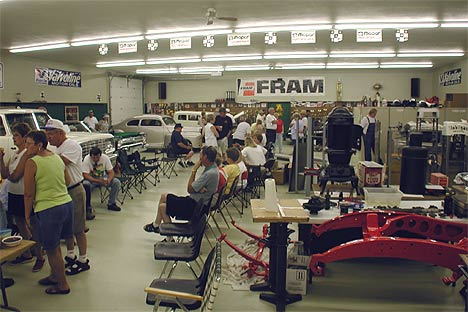 The main party was held in one of his (air conditioned) buildings. It was great refuge from the scorching heat and there was so much stuff to see! Now THIS is a garage!
This is some of Norm's "Yard Art". It sits at the end of the long driveway (named Street Rod Boulevard) beside a staging light and a burnout pad. RRR!

There's a speed limit sign along the driveway that reads 325mph :)
| | |
| --- | --- |
| Here's a little something I stumbled across. Does the EFI look familiar? Norm said they have yet to start one of their BDS EFI cars (they have 3), so he couldn't offer any tips or advice at this time. It looked real nice on the top of this Hemi! | |



Norm's pride and joy is this rare 1933 Chrysler Imperial that features NOS and a custom EFI among other things - what a car!

The back wall of the garage contains hundreds of trophies in glass cases.

Here's a close-up of the wild engine!

A flamed `57 Chevy shares the garage as well as several other nice specimens and works in progress. Every project car is tagged with a work roster - what attention to detail!

The walls of this garage are adorned with metal signs, gas pump globes and other cool automotive memorabilia.



| | |
| --- | --- |
| | Here's a 1933 Chrysler Imperial 3-window Coupe - a mate to the big 4-door. There were only a small number of these made. This one is being restored to original (you can't rod everything!) The bright red frame is peeking out in one of the shots above. |
| | |
| --- | --- |
| | |
| This is one of the assembly bays. The windows next to the tool chest look into the welding and fabrication room. And some of you think my garage is clean? Compared to this, it's a pig sty! | This is the immaculate engine assembly room. WOW! This sits adjacent to a huge room with a floor-mounted hoist where several other projects are being completed including a school bus! |
| | |
| --- | --- |
| | |
| Outside "DA FUZ" kept law and order amongst the crowds of rowdy rodders :) | Some of the nicest built and MOST DRIVABLE street rods can be found right here in the Midwest. A bold statement I know - but it's true. |
| | |
| --- | --- |
| | |
| I love this truck! There were too many cars to show on one page - every one of them was nice. | The guy who flamed this `57 will probably be the guy who does my flames. You may recognize this car as Ken's, from my favorite body shop. |
So now you know how I spent my Sunday - driving someone else's truck, eating someone else's food and drooling over everyone else's car! Man - I feel like a mooch! :)
My wife Lisa and I would like to extend a big THANK YOU to Norm and his lovely wife for the great party! and to Dakota Digital for allowing us to drive their toy for the day. Now I need to stop partying and get my butt back in the garage and get that car finished!

Until next time - Keep the shiny side up!
Scooter