It was another great month, filled with car events and summer fun! (I'm not sure I can handle this much fun :)
Project33 gets new exhaust!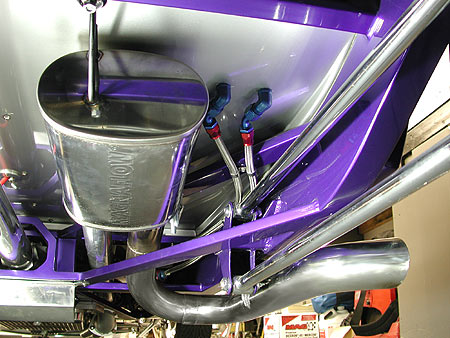 You can read all about it starting with the article: Project33 Quiets Down that was written just before posting this update. The new exhaust "sounds marvelous" if I do say so myself. It's like the car has taken on a new personality.
I'm nearly finished getting all the little annoyances and issues taken care of and the car has really become a great running and driving car. I couldn't be happier with how it turned out. I still have some interior work behind the seats to finish and it's time to charge the A/C. Another thing on my list of things to do is to have the regional NSRA safety inspector look it over so I can get a full safety certification.
The Annual Ken & Virg's Rods, Dogs & Burgers Cookout gets bigger and better every year. This year as part of the fun, Ken turned the scale on across the street so we could all drive on the scale and weigh our cars. I wish they would have done that before we ate! :)

Purple Row. Actually, all three purple cars pictured here have paint and bodywork by our own Bodyman Bob Schmeichel. Each is it's own unique shade of purple but mine's the only one that glows in the dark :)
Yes, Bob paints cars other colors than purple - see Jim Christensen's `32 roadster.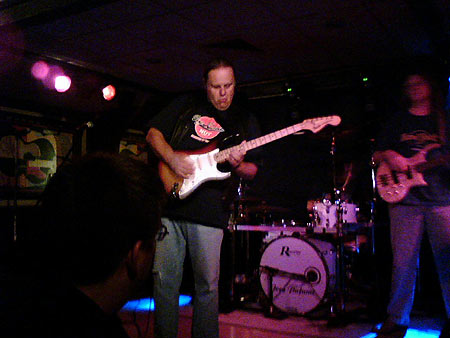 I'm a big fan of the blues and this month I was lucky enough to see two blues icons up close and personal. Walter Trout played at Nutty's North and our table was so close I could have reached out and strummed his guitar for him. I could have permanently damaged my hearing too, but it was worth it!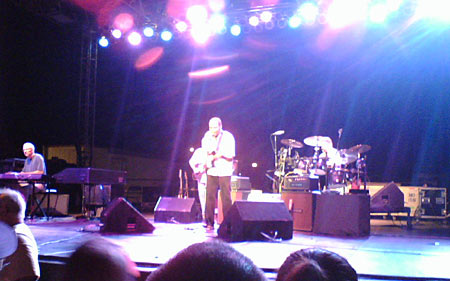 Robert Cray came to the Sioux Falls Jazzfest this year. It's a two-day blues and jazz event that is FREE to the public and always features many great performers (on two stages) along with an assortment of fattening foods and alcohol. We go every year. Last year a friend of ours came from Seattle for the festival and stayed with us. Sioux Falls is a blues love'n town!

We saw the Budweiser Clydesdales up close and personal at the 4th of July celebration in Lennox, SD. They are magnificent creatures and what a pampered life they lead with their personal handlers and air conditioned trailers. If I'm ever reincarnated as a Clydesdale horse, THAT's the job I want!
Just think how many horse power eight of these big guys put out! :)
Summer's almost over, so we need to soak it up while it's here. I need to get as much fresh air and sunshine as I can before it gets cold and dark again.