Pictured above are some really HOT rodders! The Friday gathering consisted of Bob, Don, Scooter, Bruce, Ron, Angie and Mike. We didn't hang out for very long after this was taken because of the heat.

The 2001 Street Rod Nationals were a blast again this year and as usual a blast furnace as the weather goes. On second thought, it was cooler in Kentucky than back here in South Dakota - so what am I complaining about?

If you couldn't make it to the Nat's this year, some of us took a few photos to share with you in the 2001 Street Rod Nationals Photo Gallery. As I get more, I'll add them.

I had a car at the Nationals...
from Dollar Rental Car... out in the parking lot. Car rental places frown upon people altering the cars while they rent them but a cyber hot rodder can easily find a way around that! The first 2 shots are a before and after of the little Dodge Stratus that I did just for fun.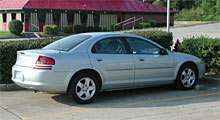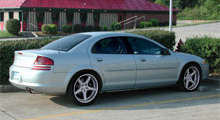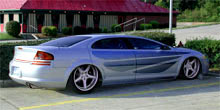 I e-mailed them to John Vernon for a laugh and he e-mailed back this last rendition proving once again that our project cars are never really finished. :)
By the way, John says to tell you he'll digitally rod your car for you for a nominal fee. Just visit his website.