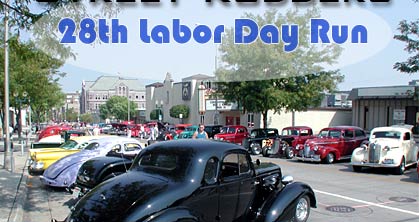 I always look forward to Labor Day Weekend because it means it's time again for the annual club rod run and campout. This marks the 28th year that members have gotten together for a weekend of fun, food, and fellowship.
This is a shot of this year's "Show `n Shine" that was held in historic Downtown Sioux Falls. Our downtown is super clean and shady so it's a perfect spot for the show. You're all officially invited to next year's event! :)
It looks like I just squeaked under the wire for the August Update! This month was hectic with the kids starting school and all our other scheduled family activities. Not much headway was made on the car in August except for the fuel lines and an increase in ambition. It's cooling down enough to play in the garage and I'm almost caught up at work so my chances are looking better to get some quality garage time sometime soon.
Every time I step into the garage, this is what I see...