Can you say BUSY?
The past few weeks have been some of the most hectic in recent memory. With only two months until Project33's unveiling at the SEMA show in Vegas, I'm spending every spare minute on the project. Much has been done but there's so much more to do!
The monthly Project Editorial page (this page) was never intended to be a glimpse at what's happening "real time" but it's unfortunately become that due to my lack of time to write Articles. Articles such as the painting of the car take quite a while to write because I want to get all the facts correct before I publish them. Rest assured, I'll catch up someday - I have good intentions anyway.
Remember the body cradle that held the body upside down? It's now become a Counter along the wall of the garage. All that was needed to make the transformation was a sheet of 3/4" plywood, 8 hinges, 4 latches and some strips of aluminum. I wonder what it will become next time it's recycled.
Here are some photos taken just moments ago: (Thursday 8-19-04)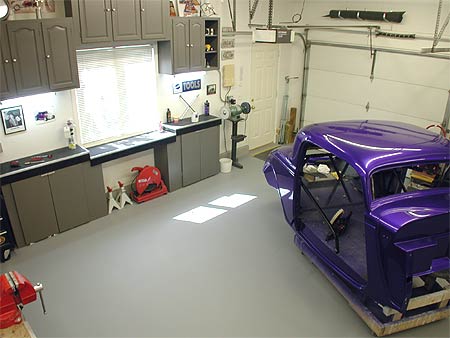 As you can see, the garage has been cleaned from top to bottom (not an easy task after months of body work) and the floor has been re-coated. I added 2 more 8' fluorescent ceiling lights and lights under the cupboards above the new (14" deep) assembly bench. The older you get the more light you need. If I keep this up, in a few years you'll be able to get a sun tan in the garage.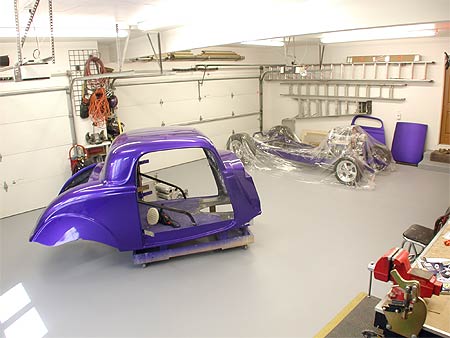 You may also notice the absence of any other vehicles. Yup, my understanding wife has given me the entire garage to assemble the car in. I can't tell you how nice it is to have room to move and a clean and organized area to work in. I'm in street rod heaven right now. (pinch myself)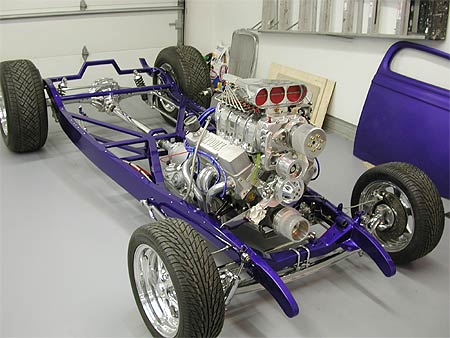 The frame is coming together nicely and I'm starting to detail the engine (valve covers, wires, linkages, etc. before we set the body back on. We'll also be doing something really fun with the exhaust (it's a secret! ;) before the body goes back on - I can't wait!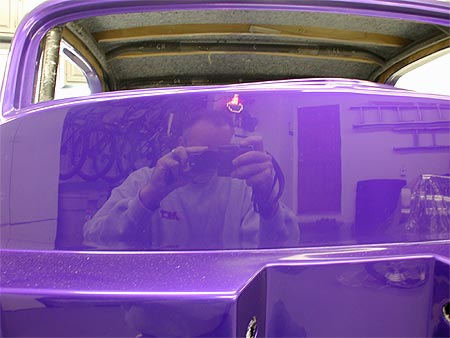 Here's an example of Bob's excellent body working skills. I guess I should have dusted it before taking the picture! The whole car is like a mirror - totally awesome - and it's still awaiting final polishing!
As if I don't have enough things going on, I put some 20" American Racing wheels on the "Dirty D" the other day. (our Durango's always filthy because it lost it's place in the garage)

I plan to drop it a couple inches one of these days but I'm still researching the best options. 4WD Durango's are seldom slammed and I'm finding out why.



We also picked up a slightly used (1800 miles) 2005 Altima for my wife. I'm hoping this helps make up for my taking over the garage, bedroom and basement with this project and for all the bondo dust I've tracked through the house over the past few months. She follows me around with a dust rag and a vacuum :)

BTW, lt will be 24 years of cleaning up after me on Monday - she's a saint!

So, that's the story. Our place is like Grand Central Station. There's never a moment when something's not happening - 24/7 chaos but I guess we must like it that way.