It's time once again for the monthly editorial or as I like to call it "Scooters Rant" :)
The Labor Day Rod Run
I'll start out by saying that the Annual Siouxland Street Rodders Labor day Rod Run was a great event as usual. The car show was held down town again and the actual event was moved to the Crook's Gun Club grounds. It's a nice facility except for the quarter mile of gravel leading into it.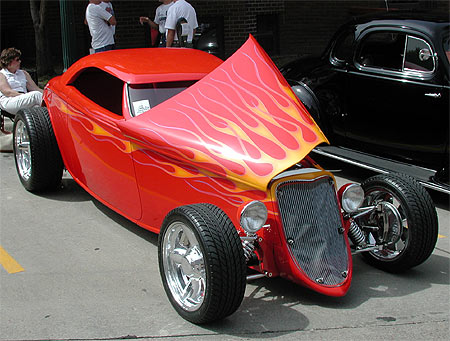 Larry Olson had his new `33 Speedstar coupe on display this year. I was surprised to learn that the one-off wheels were milled right here in Sioux Falls. Nice car!
Larry may have had a Speedstar there but the star of the show in my eyes was Kevin Gribble's poppin' fresh `35 Chevy truck with sleeper.

The truck sits on a custom 1-ton GM chassis and runs a big block fueled by PROPANE! Yep, there's a huge bottle of it under the sleeper. Don't smoke in bed!



Checkout the big 4-bar and air bag suspension!

This was his first shakedown cruise and everything was working, as it should. He intends to pull his work trailer with it.

I bet it will make his job a lot more enjoyable!
Titling the Project
I procured an out-of-state title for an original 1933 3-window coupe a while ago (thanks Larry!) and decided it was time transfer it to the state of South Dakota. Now original 1933 titles are not that easy to find, especially a coupe, roadster or cabriolet, so a 3-window coupe title is something of value.
The folks at the court house started the process by looking up the weight for a 1933 coupe (2147 lbs.) and then it came to the body style… Coupe is not an option in the state of South Dakota! They said the car could be titled as one of the following: Sedan, Hardtop, Convertible or Roadster - pick one. They tried to enter Coupe or CP but the system rejected it. Left with no other choice, I selected hardtop.
When I got back home I immediately e-mailed the South Dakota Dept. of Motor Vehicles to request an addition to their body style options and to nicely explain why none of the current options fit the car. I wrote that of their four available descriptions, not one of them described a coupe:
Sedan: (not a coupe - sedan's have a back seat)
Convertible: (top folds down)
Roaster: (this is the same as convertible except no roll-up side windows and no back seat other than a rumble seat)
Hardtop: (not produced until the 50's - designates no post between front and back windows when they're rolled down - designed to look like a convertible with the top up)
I told them that coupes are still being produced and that millions have been sold through the years. I also informed them that the wrong body style designation on a rare car could greatly reduce its value.
Well obviously the person/people in charge at the Dept of Motor Vehicles don't know cars and done really care. Here's my reply from the state:
"This vehicle will be coded as a 2H, as we have no current plans to change the body definitions."
Okay, maybe this makes my car MORE valuable - I now have the only 1933 Ford Hardtop ever produced!

Until next time - Keep the shiny side up and
don't title your coupe in South Dakota!
Scooter