What a Month! ...and this was only the first four days.
We started off the month by moving our oldest daughter back to college in Lincoln, NE.

Of course everyone knows how fun and easy moving is so I won't elaborate except to say it didn't take any time or effort at all :)
The next day was a little more exciting. The body was ready to be set on the frame for the last time so I decided it was a great excuse for a garage party!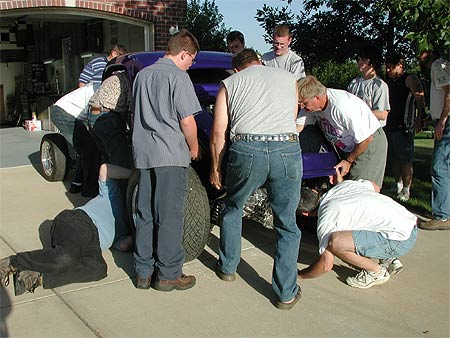 I'm not sure how many people showed up and I won't try to list them all (I'm sure I'd forget someone) but there was more than enough "man power" to lift the body in place.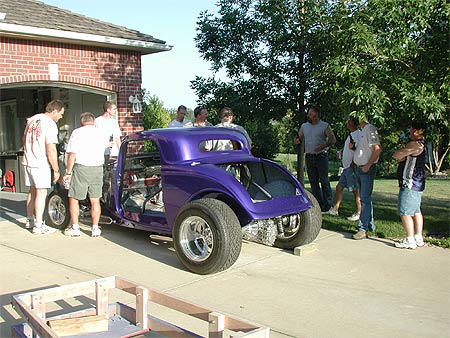 The ladies hung out in the shade of the garage while the guys stood back and admired their work and tried to imagine it finished and running. The color looks awesome in the sunlight!
| | |
| --- | --- |
| Young Jason isn't so young anymore. He spent his 18th birthday at the Project33 garage party. | We surprised him with a big birthday cookie that we all enjoyed :) |

The next morning Bob took on the task of prepping the hood for flames while I sorted through the garbage from the night before for recycling.

I also made a trip to the local quick print center to have the flame images for the hood and hood sides enlarged to life-size templates.





The next morning's recycling. I won't show the aluminum and glass ;)

I've been told you can judge the success of a party by the amount of trash the next morning. (When I was younger it was by the number of people who were still there the next morning ;)

If that's the case, it looks like it was a great party. I know I had a blast and I'd like to take this opportunity once again to thank everyone for coming and for helping with the project!