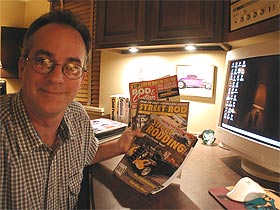 Hotrod off the Press!
Project33 has received some nice press lately in several magazines from here in the states, Finland and Australia. One fellow rodder from Tasmania sent me a copy of Australia's Street Rodding Magazine with the Project33 article. What a nice guy! Our local newspaper even did a full page article on Project33 back in May. Way cool!
We're gearing up for assembly. There's a large stockpile of parts right now just waiting to be bolted in place. As soon as there's enough room in our shop we'll start assembly. I have a little final buffing to do to the frame but it's almost ready. I'm still waiting for the inner fender pieces. Without them I can't mock-up the front sheet metal.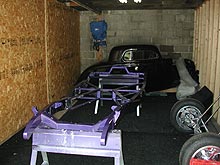 The body and frame have been in storage in a small rented garage just waiting for the day they are set free. We will assemble the frame and set the body back on it (probably on and off a few times) to set up the radiator and front sheet metal. We'll build the roll cage at this time too. Once everything is fit the body will come back off and the modifications we need to make will be preformed. More on those later.
Most builders fit everything first and then "blow"it apart to paint and reassemble. I'm doing it a little different by painting the frame before final- fitting the front sheet metal. I had access to the paint booth in May and I didn't want it to rust while in storage from May to Sept. I'll just have to be extra careful when I fit everything.
To make your viewing experience better and to show off that nice tool chest my wife and kids gave me for Father's Day, I'm going to paint the walls of the shop before we start assembly. It will "feel" better working in a freshly painted nice clean area.
I want to thank everyone who has donated in any way to this project. I've received a lot of good tips, advice, and even gifts from fellow rodders all over the world.

The T-shirts:
We're taking orders for Project33 T-Shirts! Visit our T-Shirt Order Page and be the first on the block with a dot-com shirt that doesn't make you look like a cyber-nerd!
So far Australia is in the lead - even over the US -in T-shirt sales! Thanks mates! I'm at the post office so often that the other day the guy at the window called me by name as I approached him. It's been running about $4 to send them by boat and it takes 4-6 weeks so be patient. I'm guessing not too many guys want to pay almost as much as the shirt in postage to get it sooner - it's just a shirt.
The Rodder's Forum hasn't taken off like I'd hoped. I think it's probably because you have to "sign up" and get an emailed password. Once you get it you can modify it to one you can remember and you're good to go any time you want to post. I'm guessing this is the reason is because I received 14 emails recommending polishes after I asked what people thought was the best, but not one reply to the forum (yet). The emailed password/signup keeps people from anonymous posting so the forum is less likely to be abused with vulgar language, etc. You can bring your kids here.

You can read my past ramblings from previous months by clicking the Links below.

Keep the shiny side up!
Scooter